The Gearbox team have been ecstatic with the recent success, but they have noticed a worrying trend in the scene. Rising ticket prices and the closing of many small to medium sized event venues has put immense pressure on the scene, which doesn't allow for a healthy breeding ground for new talent.
Ever since it's creation, Gearbox Digital has aimed to be a platform for developing new talent, while pushing the boundaries of harder styles. Their dedication to home grown talent has helped with providing the best possible atmosphere at their events, as the relationship between the DJs and the fanbase is incredibly intimate. The 'Gearbox Family' have grown together from underground to MainStage.
This formula has been the stepping stone for some of the biggest artists in the scene and has led to the success of the label and the events. The pinnacle thus far being a sold out edition of Gearbox Twin Turbo at the AFAS Live in Amsterdam.
With the launch of Route 666, Gearbox presents a new concept that will travel around the Netherlands and abroad to bring accessible harder styles events at the doorstep of (new) fans. Providing a totally new atmosphere with the launch of an intimate setting and extended sets which the team believes are the most important ingredients to a successful event.
The idea behind the extended sets is to offer freedom to the artists to take fans on an unexpected journey. Giving them the chance to play classics, support upcoming talents, play tracks from other artists, and drop completely unexpected bangers to give fans the fullest experience of their favorite DJs. Gearbox wants to step away from "live" performances and excessive b2bs and promote the art of dj-ing to create a fluidity to the music throughout the night.
The first edition has been planned on the 30th of June in the famous Bootshaus in Germany and the first Dutch edition will take place in Vibes Eindhoven (former Beursgebouw).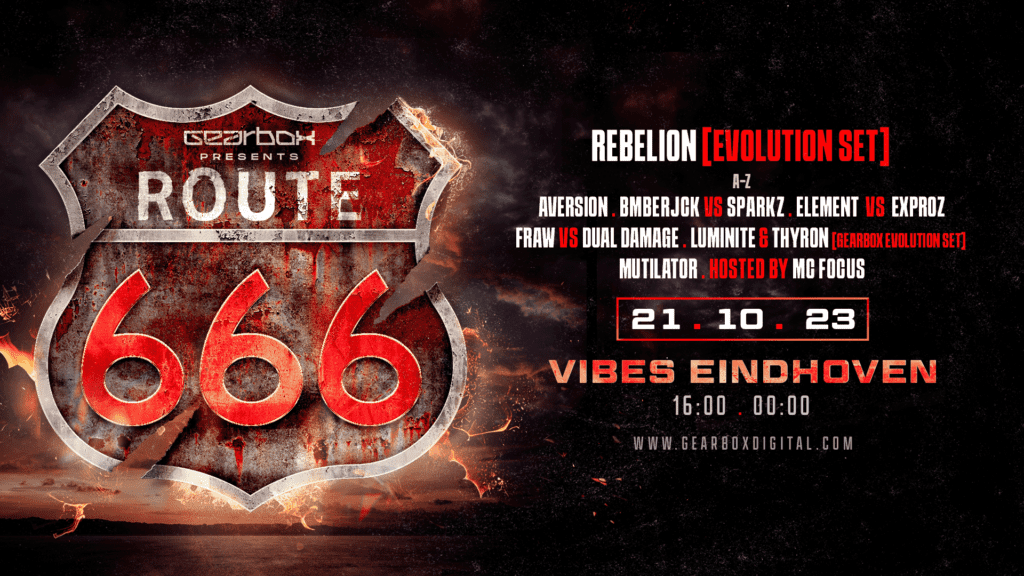 Tickets are available via gearboxdigital.com/events and follow the Gearbox Digital & Route 666 instagram and Facebook page for updates.